[]
[]
[]
[]
[]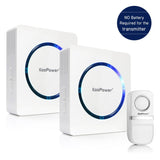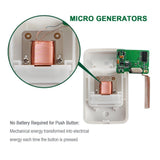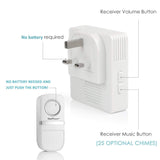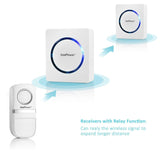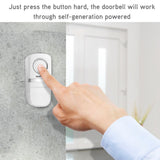 Wireless Doorbell Chime Kit - No Batteries Required
Secured and trusted checkout with:
MODERN FUNCTIONALITY AT YOUR FINGERTIPS With its sleek, contemporary button and stylish receiver systems, your doorbell will no longer be an eyesore outside of your door
25 BEAUTIFUL DOORBELL MELODIES With this doorbell chime kit, you'll be alerted to any visitors at your doorbell from one of the many ring tones designed to be pleasing to the ear instead of abrupt and jarring
LONG RANGE REACH This doorbell kit can reach as far as 150 meters in the open or as many as 40 meters if there are walls in between the receiver and transmitter
SELF-CHARGING MECHANISM Using the micro-generators, this doorbell kit never requires any batteries or wiring and will always have plenty of power to run
SIMPLE TO INSTALL This waterproof kit comes with two receivers, a transmitter and the screws you will need for simple installation. Because it is self-charging, there are not even any wires to worry about
Doorbells are something that homes have had for decades to let you know about any visitors at your door without the need for them to bang on the door; however, doorbells can be a bit jarring when you don't have the ability to adjust the volume or the sounds...Read More 
"If you cannot install wiring to deploy a traditional doorbell or are not satisfied with your existing doorbell, then you can go ahead and acquire this product without any hesitation." - by Techno FAQ
"I absolutely love this wireless doorbell from KooPower.  It amazes me how it works, such a simple idea and could change the way we look at traditional doorbells." - by My Helpful Hints
"Easy to setup. A stylish design, well put together and a wide range of tunes to choose from. Can't go wrong really. Top stuff" - by CoolSmartphone
"You also get something that is easy to install, low in price, and multiple music chimes and volume levels, making the KooPower Wireless Doorbell the best choice all around." - by Tricksmommy
The KooPower wireless doorbell is a brilliant innovative quality piece of kit. The fact that you can place two receivers in different parts of your home means that you will never miss that important caller or that parcel you have been waiting for. DIYDaddyBlog
We have put a lot of effort to make sure the items get delivered to our customers as quickly as possible. 
1. Free US and UK Shipping
Generally, you could receive your order in 2-7 working days from the date you placed.
2. Free Worldwide Shipping by ePacket 
Generally, you could receive your order in 5-17 working days from the date you placed.
It normally takes 1-2 working days for us to process your order. 
KooPower provides a straightforward warranty that is processed in the most hassle-free way possible. 
60-Day Money-Back Guarantee for Any Reason
Undamaged products may be returned for a full refund for any reason within 60 days of the date the item was delivered to the designated shipping address.
Once the returned item arrives back in KooPower's warehouse for inspection, the refund process will begin. Return Form Here
● Returns must include all accessories
● Items must include original packaging
● For non-quality related warranty claims, buyer is responsible for shipping costs
● For non-quality related warranty claims, KooPower refunds the cost of the product itself
● Returns may be rejected if items do not meet the above requirements
14-Month Warranty for Quality-Related Issues
Extend your warranty by another 6 months by registering your products here
KooPower's limited warranty is restricted to the country of purchase. The limited warranty is void on items taken outside the country they were originally bought in or shipped to directly from an authorized online purchase. 
For quality-related warranty claims, items will be replaced with a factory refurbished model of equal value when available, otherwise a new item will be sent.
In situations where a replacement is not an available or preferred option, KooPower will offer a partial refund according to the usage time of the device.
Shipping costs must be covered by buyer in the following situations:
● Returning products for any reason other than a proven defect
● Warranty claims on items taken outside the original country of purchase
● Returning items claimed to have defects but found by KooPower quality control to be in working condition
● Returning defective items in international shipping
● Costs associated with unauthorized returns (any returns made outside of the approved warranty process)
Not Covered Under Warranty:
● Products without sufficient proof of purchase
● Lost or stolen products
● Items that have expired their warranty period
● Non quality-related issues (after 60 days of purchase)
● Free products
● Repairs through 3rd parties
● Damage from outside sources
● Damage from misuse of products (including, but not limited to: falls, extreme temperatures, water, operating devices improperly)
● Purchases from illegitimate resource
For Purchases Made through Other KooPower's Authorized Resellers
Different retailers' after-sales support policy vary. Please contact them directly for specific guidance on warranty.
Unauthorized reselling of KooPower products is strictly prohibited.